Last modified: 9 March 2021
Who we are
Jagger is part of BeatPlus B.V., a private company registered in The Netherlands under company number: 81978367, whose registered office is at Noordeinde 35, 2514 GC, The Hague, The Netherlands. When you use Beat+ services, you trust us with your information. This Privacy Statement is meant to help you understand what data we collect, why we collect it, and what we do with it. If you have any questions, remarks or requests, you can contact us via legal@beatplus.co.
Privacy, Transparency and Trust
Your trust in us as an opinion rewards company is critical to our success. Therefore, transparent and integrity is at the forefront of our services. We have designed our system specifically with privacy in mind and in accordance with the principles of the European General Data Protection Regulation(GDPR), the Californian Consumer Privacy Act (CCPA) and the International Data Privacy Principles(IDPP). We go to great lengths to apply technology to enhance your privacy as well as security. This, for example, means we do not just hash (convert text into codes) your password, but also your email address, as soon as we can. We believe that privacy should be integrated with technology and that technology should be used to enhance it. This creates a sustainable business model for us and a trustworthy service for you.
Our Privacy Statement explains
What information we collect and why we collect it
How we use that information
The choices we offer, including how to access and update information
From time to time, Jagger may contain links to and from the websites of our partner networks, advertisers, and affiliates. If you follow a link to any of these websites, please note that these websites have their own privacy policies and that we do not accept any responsibility or liability for these policies. Please check these policies before you submit any personal data to these websites.
More on privacy principles and how we apply them
The following privacy principles are at the heart of our technology:
Data minimisation. We only ask you for the data we need for our services and pseudonymise or anonymise these as soon as possible. We do not share personal information with our clients; they only receive aggregated data, which cannot be traced to an individual. Keeping personal data to an absolute minimum is called data minimisation.
Privacy by design. This principle means that we take privacy into account right from the design stage onwards.
Transparency. We are as transparent as possible and explain to you which data we collect and why, how we apply our technology and what that means for your privacy—every step of the way.
Consent. We ask your permission for access to your microphone, location data, and tracking. We also explain why and how we use that information and ensure that we also do not collect more information than needed, even with your consent. This is also why we do not make audio recordings but apply Audio Content Recognition (ACR) and do not share personal data with clients.
Information we collect
We collect and process the following personal data from you:
The Jagger website contains the following cookies: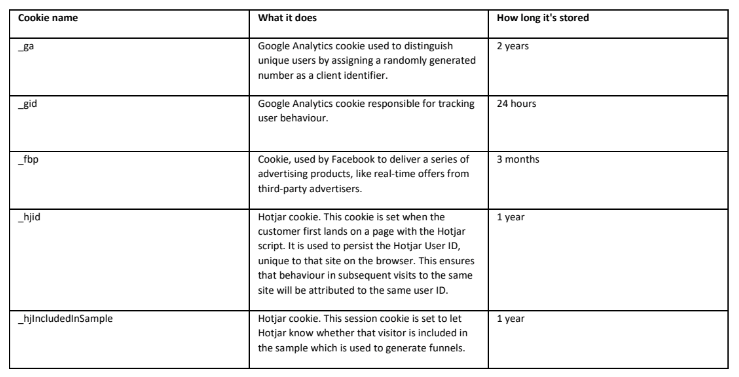 Why don't you ask my consent for these cookies?
We limit the use of our cookies to a minimum; on our website, you can only find functional cookies(language settings etc.) and analytical cookies (view counts). We have applied the settings recommended by the Dutch Data Protection Authority. These cookies do not require consent, as they fall under the GDPR legal basis of 'legitimate interest' and have a minimal impact on your privacy. Pixels and other forms of tracking can be part of other services (see below) in the app, and only with your consent, but you will not find them on our website.
If you register with us
Profile information provided by you. The information you give us by using the Jagger app when were quire you to sign up. When you do, we will ask for personal information, like your email address, age, gender, and postcode. Suppose you want to take full advantage of the service we offer. In that case, we might also ask you to create a broader profile, which may include information about your occupation, education, household, shopper decision-maker, your way of commuting daily, your income range, etc. In addition, we collect Personal Data you provide in the context of a panel when you participate in a survey or in connection with the receipt and redemption of rewards and incentives, or characteristics about you derived from the data you provide, such as your age or in which region you live. We use this information to communicate with you, send you rewards and incentives and make a profile based on which we do the market research for our partners as a necessary part of our services. By signing up, you enter into an agreement with us for our services. The legal basis for processing your personal data is, therefore, 'agreement'. Don't worry; you can cancel at any point by deleting the app. Additionally, you can submit a request to have all data erased. Please see below how to submit the request.
If you give us permission to your phone's microphone–Audio content recognition
Audio Content Recognition. Jagger is a platform where you can earn rewards by participating in content testing, which will verify the content played out to measure the impact of content quality and people's opinion on brands. To collect points that earn these rewards, you may choose to allow the app to play out media in the background and for the app to use your device's microphone to recognise and verify audio content, such as TV, video and radio around you to provide you with more relevant surveys. Here is how this would work. The microphone of your mobile device never records any audio but processes audio within the proximity of the device into a string of code. We call this an audio fingerprint, which allows us to match against our database of audio fingerprints of popular audio-based content and advertising. Such data looks like this: user_id: 1234,matched_content: ABC radio ad, audio_fingerprint: 265523236267, timestamp: 6:13 PM.
It is NOT possible to decode audio fingerprints back into an audible format or conversation. Beat+ does not create audio recordings, and it is not possible to identify conversations. We merely collect information about what audio-based content you have viewed and which ads you have been exposed to. We will use this information to present you with surveys and questions that are relevant to test the audio-content and advertisements that you have been exposed to for the purpose of the market research we do for our partners. We only use aggregated, anonymised data derived from the ACR to provide analytics and other services to these third parties We ask for explicit consent for using your audio player or microphone, and this is the legal basis for processing. You can withdraw your consent at any time by turning off microphone access for our app in the settings of your phone.
If you give us permission to use your phone's location
Location data. With your explicit consent, we may collect location data to understand which retail stores and restaurants (chains) you may have visited or to which Out Of Home advertising you may have been exposed to, to provide you with more relevant surveys and content and to use is for the market research we do for our partners. We only use aggregated, anonymised data derived from your location data to provide analytics and other services to these third parties. We ask for explicit consent for using your location data, and this is the legal basis for processing. You can withdraw your consent at any time by turning off location access for our app in the settings of your phone.
If you provide us permission to use your device information for personalised ads
Digital advertising. We may collect information about the digital advertising you view: Cookies, advertising ID's (AAID or IDFA) and other similar data may be collected via a pixel for the advertising you view on digital devices. We may collect information about your mobile device, such as mobile network, operating system (Android, iOS versions) device manufacturer, to serve you with more relevant surveys and to allow us to do better research for our partners. The legal basis for collecting this information is consent, which you may withdraw at any time. It is possible to opt-out of this form of data collection by resetting your Advertising ID's (AAID / IDFA; iOS users can view how to Limit Ad Tracking here, and Android users can Opt Out of Interest-Based Ads here).When collecting this data, we adhere to the policies and code of conduct of the World Association of Opinion and Marketing Research Professionals (ESOMAR) and the Internet Advertising Bureau (IAB).
Payments
Any payment transactions will be encrypted using SSL technology. Where we have given you (or where you have chosen) a password that enables you to access certain parts of Jagger, you are responsible for keeping this password confidential. We ask you not to share a password with anyone.
You can use 'Sign in with Apple' with our services. This allows you even more privacy by using your Apple ID to log-in, and using Hide My Email —"'Apple's private email relay service— to create and share a unique, random email address that forwards to your email. That way, you can receive useful messages from us without sharing your own email address. We will be the only service communicating with you using this email, and you can turn it off at any time. Other than the masked email address, we will only receive your name.
Sign in with Apple won't track or profile you as you use your favourite apps and websites, and Apple retains only the information that's needed to make sure you can sign in and manage your account.
When you use 'Sign in with Google', we can request the name and email address associated with your account. This information makes it possible to connect your Google Account with our app.
Where We Store Your Personal Data and for how long
We will take all steps reasonably necessary to ensure that your data is treated securely and in accordance with this privacy policy. Beat+ uses cloud-based services for processing and storing your personal data, Amazon AWS in particular. The data that we collect from you may be transferred to a cloud-based service and stored in the same region where we collect the data. These cloud-based services have a Data Processing Addendum to their terms of service to ensure compliance with the regional privacy standards, such as the GDPR.
We can process outside of the EU/EEA (European Union/European Economic Area) because the AWSGDPR Data Processing Addendum includes the model clauses, which are approved by the EU data protection authorities, ensure the same level of protection outside of the EEA, as the GDPR does within. We keep your personal data for a maximum of two years. Anonymised (aggregated, no longer identifiable) data may be kept longer.
How we use personal information and why
Other than mentioned under information we collect, we may use your information to:
To provide you with information, products or services which we feel may interest you;
To analyse the effectiveness of, and to improve our surveys;
To ensure that content from the Beat+ products are presented in the most effective manner for you and for your device;
To notify you about changes to Jagger or other Beat+ products
To provide you with information about goods and services which may be of interest to you and they or we may contact you about these by email.
The legal basis of these uses is 'legitimate interest', which means we make sure to take your privacy into account at all times and limit intrusion to a minimum level.
Sharing Your Information
Looking for the 'do not sell my personal information' link? We don't have one because we never disclose information about identifiable individuals to our clients, advertisers and advertising networks, but we may provide them with aggregate information about our users. We may also use such aggregate information to help our clients, advertisers and advertising networks reach the kind of audience they want to target. We may use the personal data we have collected from you to enable us to comply with our clients', advertisers' and advertising networks' wishes by displaying their advertisement to that target audience. We may disclose your information to any member of our group, which means our subsidiaries, our ultimate holding company and its subsidiaries; We may disclose your personal information if we are under a duty to disclose or share your personal data in order to comply with any legal obligation or to protect the rights, property, or safety of Beat+, our customers, or others. This includes exchanging information with other companies and organisations for the purposes of fraud protection and credit risk reduction.
Your Rights
As a data subject, you have the following rights:
Right to access and notice
You have the right to request your own personal data that is known to us, to ask for which purposes that data is used and with whom these personal data are shared. You also have the right to receive a notice of this, which is this Privacy Statement. If the personal data of another person are included in the file in which you wish to inspect, then these personal data will be protected.
Right to correction and supplementation
You have the right to have data corrected or supplemented if the data is incorrect or incomplete.
Right to data erasure
You have the right to request us to delete data of you (data erasure). We will grant this request whenever possible and in particular when:
Personal data are no longer necessary for the purposes for which they were collected;
The personal data have been processed unlawfully;
You withdraw your consent (if the processing is based on this).
Right to restriction
You have the right to ask to (temporarily) restrict the processing of your personal data (to stop the use of the data) if one of the following points applies:
You dispute the accuracy of the personal data; the processing is limited during the period we need to verify the accuracy of the personal data;
the processing is unlawful, and you oppose the erasure of the personal data and, instead, request that the use be restricted;
we no longer need the personal data for processing purposes, but you need it for the establishment, exercise or substantiation of a legal claim;
you objected to the processing and are awaiting the answer to the question of whether the legitimate grounds of Beat+ outweigh those of you.
Data portability
You have the right to data portability, also known as transferability of data. This means that you have the right to obtain your personal data, which you have provided to Beat+, in a structured and current digital file. You also have the right to transfer that personal data to another organisation without being hindered by us.
Right to object
The right to object is also known as the right to resist. If the processing of personal data takes place on the basis of the principle of justice' interest in the organisation', then you have the right to object to the processing of your personal data.
Right not to be subjected to profiling
Beat+ does not use automated decision-making based on automated processing (like algorithms),known as profiling. If we did, you would, of course, be able to request more information and human interference in the decision.
Contact
You can submit your request regarding the above rights to our Compliance Officer vialegal@beatplus.co. We will answer your request within1 month.
If you have a complaint regarding your privacy, you can also contact our Compliance Officer or lodge a complaint with the Dutch Data Protection Authority (Autoriteit Persoonsgegevens) at or your local Data Protection Authority.
Changes to our Privacy Statement
Due to the rapidly evolving technologies and capabilities on the internet, we may need to change our Privacy Statement over time. We may also revise this Statement due to security, legal, best practice or regulatory reasons or because we came up with even better ways to protect your privacy. You can check this page from time to time to take notice of any changes we made. But we will not make substantial changes to the Privacy Statement without letting you know explicitly via email.
Contact
Questions, comments and requests regarding this privacy policy are welcomed and should be addressed to legal@beatplus.co.